It's that time. Grab your Santa Suit and get ready for a fine evening of good wholesome fun! 2019 Phoenix Santarchy Saturday, December 14th, 2019 6:00PM - 2:30AM Downtown Phoenix HOME | FAQ | PHOTOS | LINKS

---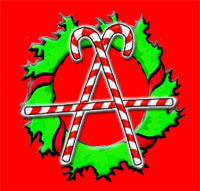 You want
carols
?? We got
carols
!!
We strongly encourage you to get tickets this year. Tickets are free!
Get Your Tickets Here!
You want a route? Hey! Here's a route!!
Suggested route, all on Roosevelt row!
6:00-7:00 - Drop your toys off early at PAZ & Bliss
7:00-8:30 - PAZ & Bliss ReBAR
8:30-10:00 - Arizona Wilderness & Sazerac
10:00-11:30 - The Churchill, Cobra, & Angel's Trumpet
11:30-2:30 - Bar Smith & Sidebar
We've brought you multiple choices for the afterparty!
For booty-shaking... Sidebar and Bar Smith will both be letting Santas in with no cover to dance the night away.
Don't feel like dancing and just want to drink more?
Santa loves The Bikini Lounge!
Gracie's Tax Bar has food and a great atmosphere too!
Check out SoSoBa for delicious late-night food. 
(A quick jog over to Central Ave will get you cheap delicious burritos at Rodiberto's. They close at 10!)  
Santarchy is on The Face Book if that's your sort of thing.
A brand new December is upon us. With it brings a return of Santarchy to downtown Phoenix.
---
Have you been naughty? Or have you been very naughty? Repent by giving to those who don't have.
So Santa's, we have many families lined up in need of toys for their little ones this year.
Be sure to bring a new un-wrapped toy to donate! Santa Larry will have donation bins conveniently located at PAZ, Bliss, AZ Wilderness, Sazerac, Sidebar, and Bar Smith! Look for the Santarchy Toy Drive signs.
ho ho ho
--Santa

---
PS, Do not go to any other "Santa Crawl" things unless you want to hang out with lame people. They charge money and they have nothing to do with the event that you all know and love. Us Cacophonists believe that Christmas and its usher, Santa Claus, should be free. Free like beer, and free like speech. Possibly free like speed? Just fucking free all the way.
---
Now Go read the entire
FAQ
Subscribe to the Email Discussion List (see right sidebar) to stay up to date with all the chilling details.
Please use twitter and facebook for real time updates. Also the facebook is apparently what the kids are using these days.
---