It's that time. Grab your Santa Suit and get ready for a fine evening of good wholesome fun! 2017 Phoenix Santarchy Saturday, December 09th, 2017 7PM - 2AM HOME | FAQ | PHOTOS | LINKS

---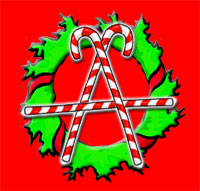 A brand new year is upon us. With it brings a brand new Santarchy in a Brand New Location. Also, Santa Pantsmaker is back.
Have you been naughty? Or have you been very naughty?
Bring a New unwrapped toy, to drop off with Santa Larry. Help give some Arizona kids a smile on Christmas. (Personally, this Santa likes giving the educational and science-type toys...)

We are meeting at a totally new Santa spot in Downtown Phoenix! Stay Tuned!
ho ho ho
--Santa
---
PS, Do not go to the Scottsdale Santa Crawl. It is $20 per person and has nothing to do with the event that you all know and love. Us Cacophonists believe that Christmas and its usher, Santa Claus, should be free.
---
Now Go read the entire
FAQ
Subscribe to the Email Discussion List (see right sidebar) to stay up to date with all the chilling details.
NOTE: There is no Swaggle this year. Please use twitter for real time updates. Also the facebook is apparently what the kids are using these days.
---