It's that time. Grab your Santa Suit and get ready for a fine evening of good wholesome fun! 2014 Phoenix Santarchy Saturday, December 6th, 2014 HOME | FAQ | PHOTOS | LINKS

---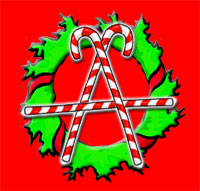 Santarchy is on The Face Book.
Please check FB for all your up to the minute updates.
A brand new year is upon us.
Have you been naughty? Or have you been very naughty?
Bring a New unwrapped toy, to drop off with Santa Larry. Help give some Arizona kids a smile on Christmas. (Personally, this Santa likes giving the educational and science-type toys...)
We are meeting at the usual Santa spot.
Dos Gringos at 6:00pm.
4209 North Craftsman Court
Scottsdale, AZ

Once again, Santa's elves are too inebriated to make all the toys this year and they need your help in the form of toy donations.
We will be collecting toys for Toys For Tots at Dos Gringos at the start. So please show up early enough to drop off your generous gifts so that the children of Arizona can smile again.
Looking forward to seeing you all in your Santa finery!
ho ho ho
--Santa
Now Go read the entire
FAQ
Subscribe to the Email Discussion List (see right sidebar) to stay up to date with all the chilling details.
NOTE: There is no Swaggle this year. Please use twitter for real time updates. Also the facebook is apparently what the kids are using these days.
---