It's that time. Grab your Santa Suit and get ready for a fine evening of good wholesome fun! 2018 Phoenix Santarchy Saturday, December 08th, 2018 6:00PM - 2AM Downtown Phoenix HOME | FAQ | PHOTOS | LINKS

---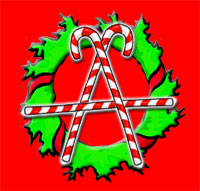 You want
carols
?? We got
carols
!!
You want a route? We got a route!
6-730: Copper Blues (specials TBA)
730-9: The Park (happy hour pricing)
9-1030: 3 choices
--- Hike to Hooters at the AZ Center
--- The Kettle Black (specials TBA)
--- Steve's Grill (happy hour pricing)
1030-?: 2 choices
--- BarSmith (no cover to Solstice for all those Santa / dressed up)
--- SideBar (7th Ave & McDowell) where our DJs will rip it up till close
Santa's putting in a little flexibility as he has no idea how may Santas will show up as usual.
Maybe a bunch will be lured to Scottsdale with the awesome allure of paying a charge to promoters for no reason :)
As always if it's crowded at a stop, strike out to all the places near by (Hannys, Seamus, Bitter and Twisted, Melindas alley, etc!!)
Santarchy is on The Face Book.
A brand new December is upon us. With it brings a return of Santarchy to downtown Phoenix. Also, Santa Pantsmaker is still here.
Santa will start with tasty libations at
Copper Blues
in Cityscape between 6:00 and 7:30. It's also a good time to try out some ice skating outside!
---
Have you been naughty? Or have you been very naughty? Repent by giving to those who don't have.
So Santa's, we have many families lined up in need of toys for their little ones this year.
Please bring a new, unwrapped toy appropriate for ages 3-15. Santa Landshark will have collection boxes at the first two bars and at the end for you super procrastinators!
If you forget, there is a convenient store downstairs from Gypsy Bar that sells toys and "stuff" (by "stuff", Santa means package liquors).
ho ho ho
--Santa
---
PS, Do not go to any other "Santa Crawl" things unless you want to hang out with lame people. They charge money and they have nothing to do with the event that you all know and love. Us Cacophonists believe that Christmas and its usher, Santa Claus, should be free. Free like beer, and free like speech. Possibly free like speed? Just fucking free all the way.
---
Now Go read the entire
FAQ
Subscribe to the Email Discussion List (see right sidebar) to stay up to date with all the chilling details.
Please use twitter and facebook for real time updates. Also the facebook is apparently what the kids are using these days.
---