It's that time. Grab your Santa Suit and get ready for a fine evening of good wholesome fun! 2015 Phoenix Santarchy Saturday, December 12th, 2015 HOME | FAQ | PHOTOS | LINKS

---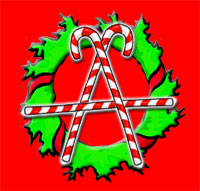 Santarchy is on The Face Book.
Please check FB for all your up to the minute updates.
---
There is also a SantaCon happening in Tucson this year on December 19th!
Info on facebook
---
A brand new year is upon us.
Have you been naughty? Or have you been very naughty?
Bring a New unwrapped toy, to drop off with Santa Larry. Help give some Arizona kids a smile on Christmas. (Personally, this Santa likes giving the educational and science-type toys...)
Quoted from facebook comment that will get easily lost:
So Santa's, we have 200 families lined up in need of toys for their little ones this year. We were a little short last year so please be generous and bring an unwrapped gift or two. We will have donation boxes set up at Dos Gringos (our starting point), Rock Bar which will be a first stop and at the Day's Inn on Scottsdale Rd.
It sucks to not have enough toys for all the kids and families that we're trying to give a merry Christmas to. This is our own thing (led by Santa Larry Landshark), and we don't want to dissapoint!
We are meeting at the usual Santa spot.
Dos Gringos, even though it's not called 'Dos Gringos' anymore at 6:00pm.
4209 North Craftsman Court
Scottsdale, AZ

ho ho ho
--Santa
Now Go read the entire
FAQ
Subscribe to the Email Discussion List (see right sidebar) to stay up to date with all the chilling details.
NOTE: There is no Swaggle this year. Please use twitter for real time updates. Also the facebook is apparently what the kids are using these days.
---